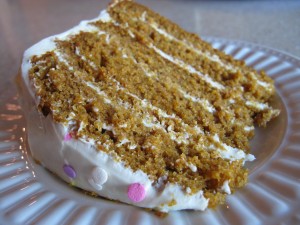 Yesterday was Mom's birthday. It was lovely. We went on a walk, had tea & cake doughnuts, watched Emma, played Scrabble, and I made Mom's favorite 6-layer pumpkin cake, which I'll share with you today. Now Mom's birthday dessert has morphed over the years. At first it was store-bought pumpkin pie, because that's her favorite kind of pie. After I learned how to bake, I would make it from scratch. The problem was, however, that nobody else in our family really liked pumpkin pie. So we moved on to these pumpkin bars, which everyone liked. But THEN I found this recipe! It took a bit of experimenting to figure out pans, baking time, etc, but I do believe I have perfected it to our family's liking, appealing to both the pumpkin lovers and non-pumpkin lovers alike. :) You probably couldn't tell that it's healthier than most cakes. And to let you in on a little family secret…sometimes we eat it for breakfast the next day! Okay, it's not a secret anymore. :)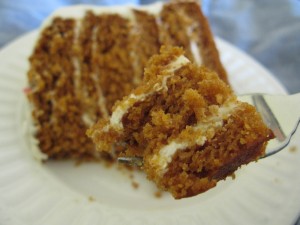 Healthy pumpkin cake
1 1/2 cups honey
1 cup olive oil
4 eggs
1 (15 oz) can pumpkin
3 cups whole wheat flour
2 teaspoons cinnamon
1/2 teaspoon allspice
1 Tablespoon baking powder
2 teaspoons baking soda
1 teaspoon salt
Preheat oven to 350 degrees. Heavily grease three 8 or 9-inch round cake pans and set aside. Mix together all ingredients in order listed. Pour into prepared pans. Bake 23-25 minutes, until toothpick inserted in the middle of cake comes out clean. Flip out of pans and cool completely on wire rack. Carefully slice each cake round in half and frost each layer with recipe below:
Best cream cheese frosting 
I like this recipe so much because it's not sickly sweet and has a light, creamy texture and a wonderful flavor from the vanilla and maple syrup.
12 oz cream cheese (1.5 8-oz packages)
1 stick butter, softened
1/4 cup pure maple syrup (optional)
1 teaspoon vanilla
3 cups powdered sugar
In an electric mixer, beat the cream cheese and softened butter very well. Add in the maple syrup, vanilla, and powdered sugar, and continue to beat on high speed for 2-3 minutes, or until a light, creamy texture is achieved. Be sure to save some for the cake, as little tasters will come running from all directions! :D